Puerto Rico has a complicated political status: As an unincorporated territory of the U.S., it is neither a U.S. state nor a sovereign country.
Its news media industry operates in a context that is unique. There isn't a "Latino population" in Puerto Rico. Spanish is the prevailing language. And there is obviously no immigrant/U.S.-born divide. Moreover, years of economic hardship due to a financial debt crisis and the catastrophic impact of Hurricane Maria in 2017 have dramatically affected the media landscape.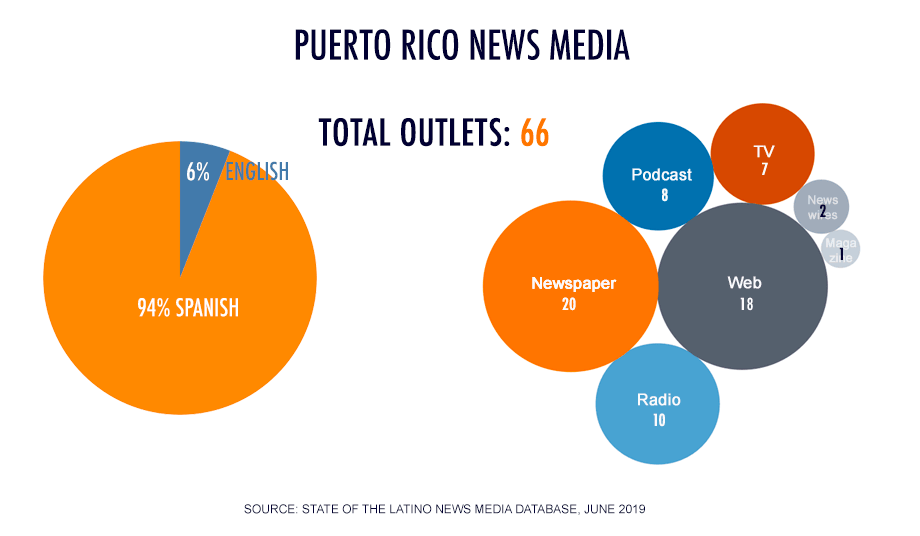 For these reasons, we are sharing our findings on Puerto Rico in a separate section. They offer just a broad picture of the state of the island's news media. Puerto Rican media deserve a much deeper exploration and analysis, and we hope these preliminary findings will help inform such research.
We did not receive enough responses to our survey to come to conclusions about business models and circulation, so most of our findings come from interviews with reporters and editors. These were conducted by Vanessa Colón Almenas, an experienced Puerto Rican journalist with deep knowledge of the industry there.
We identified 66 news outlets: 20 newspapers, 18 websites, 10 radio stations, eight podcasts, seven TV stations, two newswires and one magazine. We found a higher concentration of outlets in and around San Juan, the capital, but there are outlets spread out across the island, covering most regions. Around 3.65 million people live in the island.
Only four outlets offer content exclusively in English. But we found that in the aftermath of Hurricane Maria more Spanish-language outlets — especially newspapers and websites — started to offer English translations of their content, particularly for stories and columns dealing with the politics and the economy of the island. The reason: The interviews we conducted point to an effort to influence the conversation about Puerto Rico taking place in the greater U.S., since that conversation affects the lives of people living in the island.
In our interviews with roughly 20 journalists working in several Puerto Rican cities and for various outlets, we identified three areas of concern, all equally urgent:
The dire economic situation resulting from the accumulated impact of two catastrophes —the island's debt crisis and the destruction wrought by Hurricane Maria —has had (not surprisingly) a huge impact on the media industry.
Traditional advertising revenue had already dropped dramatically with the financial crisis, and immediately after the hurricane it all but disappeared.
Latin Media House, publisher of the English-language website Caribbean Business, struggled to pay salaries and had to stop publication for several weeks. More than a year and a half after the hurricane, the site has only now returned to its usual publishing frequency. Diálogo, an important traditional newspaper run by Puerto Rico University — and considered a valuable resource for journalism students who start their practice in its newsroom — shut down completely and it remains shuttered. The publicly owned TV station WIPR is being privatized.
Omar Alfonso, editor at La Perla del Sur, a weekly serving the Ponce region in the island's south, said that after Maria, for the first time in 35 years of continuous publication, the paper "considered to stop publishing" because local businesses couldn't afford to advertise. Such financial woes severely curtailed the paper's hurricane coverage. "Because we were coming from four years of sustained economic deterioration we didn't have a reserve fund that would allow us to print a special edition of 24 or 36 pages," he said. In the end, the paper printed an emergency 12-page edition that reached only a limited area. Several of its drivers had lost their homes and couldn't come to work. Roads were inaccessible.
The leading media company, GFR Media, owner of the two largest newspapers (El Nuevo Día and Primera Hora) laid off 59 people (out of 245) soon after María hit. El Nuevo Día is the newspaper of record in Puerto Rico, and GFR Media is the largest employer of journalists in the island. GFR was already struggling with advertising loses and digital-transition restructuring when the hurricane hit. Most of the laid-off employees had suffered considerable personal losses from the hurricane, and practically no other company was hiring. In recent months, some newsrooms, including those of GFR Media, have resumed hiring journalists. But, according to the interviews we conducted, salaries are lower, often many times lower than in the past. Some journalists are making as little as $10 an hour.
Most outlets are still producing original content, serving a population that is struggling to recover and coping with a basic infrastructure that remains largely down —mostly in rural areas. But these outlets have few resources, little or no revenue, and sometimes just one person to produce, edit and distribute the content.
Still, at most media operations, we found energized journalists with a strong sense of mission. Asked about their level of job satisfaction, they often replied: "Very high."
Almost all medium and small newsrooms were without power, internet connection or water in the aftermath of the hurricane and, in some cases, for months afterward. Newsrooms relocated to public buildings, from which journalists could post or broadcast. The Centro de Periodismo Investigativo (CPI), for example, moved to the island's Centro de Operaciones de Emergencia (the Emergency Operation Center) in Santurce, near San Juan. (For more on CPI, see our Outstanding Innovation Section.)
WALO, a radio station covering the eastern part of the island, moved to the local government's Emergency Center in Ponce. And for several days after the storm, many journalists and their families camped out in the newsroom of El Nuevo Día, which had power and water. The company fed them and provided them with mattresses.
Since then, a priority for news outlets has been to obtain —with cash or through donations — satellite phones, old-fashioned radio communication systems, and diesel reserves to fuel power generators. Infrastructure is now functioning in most places. Still, many newsrooms have developed contingency plans and personnel training to prepare for the next natural disaster.
We heard more than once in our interviews that the increasingly limited sources of revenue have created new constraints on editorial independence at some outlets, with owners cautious about criticizing the island's economic and political powers. This was already a problem, these journalists said, before the hurricane, and has only gotten worse. Journalists working for outlets where these constraints are not an issue — even those with few resources — told us that they are particularly aware of their privilege in having the freedom to run critical coverage.
"Sometimes [the Centro de Periodismo Investigativo] feels like a bubble in that we have a lot of freedom to decide what to cover and how we do it," said Carla Minet, executive director of CPI, a nonprofit outlet funded by grants and individual donations. Three of the journalists we interviewed complained about the lack of editorial independence in their newsrooms, attributing it to the economic interests of the owners of the outlets.
This is a critical moment for Puerto Rico, and the role of the news media cannot be overstated. An avalanche of recovery federal funds is arriving on the island, and with them a clear and urgent need for oversight and accountability journalism. The work of the Centro de Periodismo Investigativo in exposing the misuse of such funds demonstrates the importance of such coverage.